Free Penny Stock Alert Ticker AXCG Eyes On The Go
Congratulations on huge 100% gains in a single trading day!
May 1, 2012
Results From This Alert Below:
Why Does the Stock Legends Team Feel That
Ticker AXCG Will Be A Profitable Trade Tomorrow?
Penny Stocks Alert 5/1/12
Keep Your "Eye" On The "Prize" Tomorrow As AXCG Wakes Up!
Learn How To Profit Off Of Fast moving Stocks Like AXCG Right Now: click here
Congratulations traders to some great gains on RACK closing up 9% yesterday with a high of 15% gains! Please take the opportunity to take a look at our next highlighted pick AXCG.Eyes on the Go provides video and audio systems that enable users to access images over the Internet. AXCG recently launched its GANDER.tv web site that provides online streaming video and audio targeted to the Hospitality industry. Web browsers can create their own home page to view their favorite bars, restaurants, nightclubs, or look at venues they are thinking about visiting. The venue can utilize this service by Eyes On The Go to leverage social media and digital age communications to increase traffic and to promote their locations. With the introduction of GANDER.tv, Eyes On The Go will leverage their proprietary hardware and software platform to bring streaming video and audio from hospitality venues to consumers. http://www.eyesonthego.comEyes on the Go, AXCG has partnered with a number of leading technology providers for its new live streaming web service, including:
Wowza Media server

Amazon S3

Route 53
With AXCG picking up steam it appears as if there is going to be some great things to look forward to in the near future based on their recent press releases alone. A recent release put out some future projections and explained that they are hoping to have over 11,000 sites installed by 2015 with a reflecting revenue stream of fifty six million dollars. We all realize that 2015 is a far out date and can be light years in the OTC market. Even if the AXCG were to show half of that growth over the next few years it would be sure to put the investors in a nice position.
Strategic relationships is a large part of being successful in today's public market and it seems as if the Executive Staff for AXCG are well aware of the fact that the world cannot be accomplished alone. A recent release explained the strategy behind AXCG entering a partnership agreement with Tremor Video. Tremer Video is the largest independent video marketing and ad solutions company in the country. Some of their clients are very well known fortune 500 companies. A few that are on that list of clients include Coco-Cola, IBM, Marriot Hotels, United Postal Service, and Ford. From a strategic perspective alone this is a wise choice for AXCG, it will give them the opportunity to advertise their Gander.tv on their website and utilize a brand new stream of potential clients and marketing capabilities.
I addition to the relationship created with Tremer Video AXCG also recently informed the investors of an additional marketing agreement that was signed with the largest food service provider in the country. The name was not released and more times than not it is typically followed up with additional information. The company that they spoke of is said to have a direct marketing reach of 200,000+ marketing associates that will enable them to advertise and utilize Gander.tv to the complete lineup of hospitality and food services clients.
Unlike a typical marketing agreement when clients add the Gander.Tv as a presentation to their customers they are able bring in a revenues from venues, advertising, promotional programs and other revenues sources from Gander.Tv. Live streaming video could be a big winner in the near future, we have seen social media explode onto the scene in recent years and as the technological world craves more and more there just may be a permanent place for AXCG!
If you want to receive all of our breakout stocks like this alert on AXCG be sure to sign up for our email list now!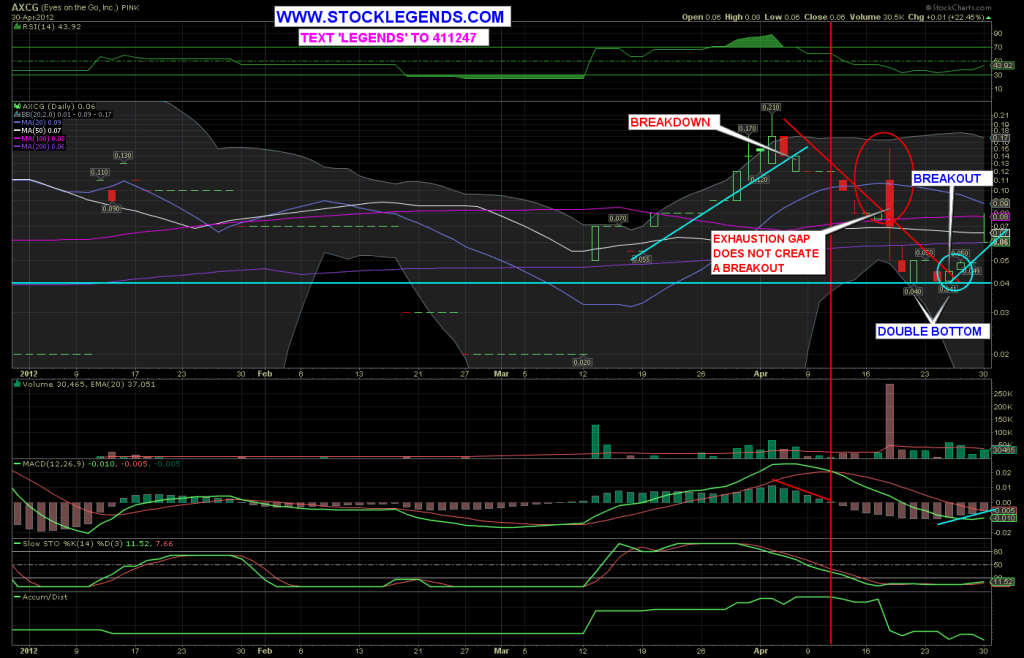 Leave A Comment
* Send To Your Social Media Following *